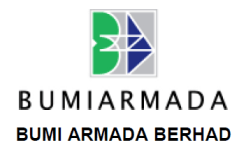 Bumi Armada Bhd, a leading international offshore oil field services contractor, is schedule to be listed in Main

Market

on 21st July 2011.
The

Initial Public Offering

(IPO) consists of 878.5 million ordinary shares at an

IPO price

of RM3.15 per share at RM0.20 par value.
Out of 878.5 million shares, 798.7 million shares are offered to Malaysian and foreign institutional and selected investors and a retail offering of 79.86 million shares to the Malaysian public and directors & employees of Bumi Armada Berhad.
Bumi Armada was privatised in 2003 by T. Ananda Krishnan. Re listing plan in 2008 was delayed due to the global

financial crisis

.
The IPO

has attracted seven cornerstone investors, including Malaysia's state investment fund Permodalan Nasional Bhd and Prudential Fund Management Bhd, which have pledged to invest about US$309 million (RM945.54 million).
Bumi Armada is an offshore oil support specialist, and is the only Malaysian company that owns floating production storage and offloading vessels
Based on at the number of FPSO (floating production, storage and offloading) vessels it operates, Bumi Armada is now number eight in the world ranking. With the new FPSO that is going to start operation in August, Bumi Armada would make it number six in the ranking.
More information regarding the company can be found in Bumi Armada webpage.
For the time being, Bumi Armada, does not have any fixed dividend policy.
The table below is financial summary for Bumi Armada Bhd.
| | FYE 2008 | FYE 2009 | FYE 2010 |
| --- | --- | --- | --- |
| Revenue (RM'000) | 519,839 | 732,090 | 1,241,383 |
| Profit after Tax (RM'000) | 150,023 | 277,442 | 350,755 |
| Earnings per Share (sen)* | 5.12 | 9.47 | 11.98 |
| Price Earnings Ratio (x)* | 61.49 | 33.25 | 26.30 |
* Based on number

of shares

post IPO
CIMB, Maybank and RHB Bank is the joint principal sole adviser of the IPO.
For those who are interested in Bumi Armada IPO, you may subscribed at ATM machines or via Internet Banking. The subscription period is opened until 7th July 2011 at 5pm. Tentative balloting date is on 11th July while allotment date is on 19th July 2011.
Bumi Armada Berhad stock name in Bursa Malaysia is "ARMADA".

Its executive director/chief executive officer, Hassan Assad Basma, said the majority of the firm's contracts on its order book also contained extension options, with a potential total value of RM2.5 billion.

"Bumi Armada is a growth story and we forecast continued growth. As such, we have a good pipeline of future projects. "In floating production, storage and offloading (FSPO), we are busy tendering for six projects now," he told reporters after the launch of the IPO prospectus here today.

The company, which is expected to be listed on July 21, 2011, is offering 644.26 million new shares at RM3.15 apiece. It will use the proceeds to repay bank borrowing, capital expenditure, working capital and listing expenses.

The listing is the largest in Malaysia this year and the second biggest listing in South-East Asia. After the IPO, the stake of Usaha Tegas Sdn, the parent of Bumi Armada, will be diluted to 43 per cent from 54 per cent previously.

Bumi Armada has secured cornerstone investors for its institutional offering, namely Great Eastern Life Assurance (M) Bhd, Permodalan Nasional Bhd, HwangDBS Investment Management Bhd, Prudential Fund Management Bhd, Hong Leong Assurance Bhd, Guoline Capital Ltd and Asia Foundation Investment Co Ltd.

They investors agreed to buy 300 million shares, or 10.2 per cent, of the company. On whether the institutional book would be closed early, a Maybank official said the management has not decided yet, adding that interest has been strong since the book opened on July 28.

Hassan Assad said Bumi Armada planned to increase its presence in existing markets as well as new markets in Latin America, Africa and Asia in the next two to three years.

"It could be either on a strategic or opportunistic basis. "We will evaluate new markets as and when opportunities arise. However, we anticipate to increase our presence in existing markets including Angola, Brazil, Venezuela, India and Vietnam," he said.

He said 84.8 per cent of the company's revenue for financial year 2010 and 67.7 per cent for first quarter ended March 31, 2011 were derived from outside Malaysia.

Hassan Assad said Bumi Armada aimed to be the fourth largest FSPO player in the world in terms of fleet size by end-2013, adding that the company's plan was to have one FSPO yearly.

Bumi Armada is Malaysia's largest owner and operator of offshore vessels with about 50 vessels. For the year ended Dec 31, 2010, it recorded a net profit of RM351 million and earnings before interest, tax, depreciation and amortisation (EBITDA) of RM714 million.

For the three months ended March 31, 2011, its net profit was RM82 million and EBITDA RM185 million. Its revenue for financial year 2010 was RM1.241 billion while revenue for the first quarter ended March 31, 2011 was RM376 million. -- Bernama
View Bumi Armada prospectus in Bursa Malaysia webpage.